3. Vision
3.1 Summary: Vision of Community Energy Congress Delegates
Participants at the inaugural Australian Community Energy Congress were invited to share their thoughts about a perfect future, in terms of how they envisage Australia and its community energy sector will look in 10 years' time, and what might be needed to get there. One hundred and eighty delegates drafted and framed their ideas and visions on 154 cards – in text and drawings. The results of the analysis and synthesis of these visions are as follows.
3.2 Results snapshot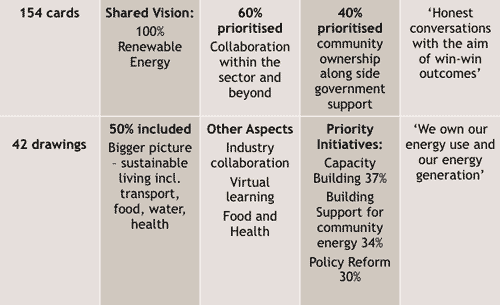 When all of the text from all the vision cards was entered into the 'wordle' application, the following image was created. Words present more times are represented in larger text, while those referenced less are smaller.

3.3 Quotes
A few quotes have been selected that best outline the shared vision that actors in the community energy sector have for the future.
'Energy being generated and managed by the community in a socially equitable fashion. Community management and engagement helps to bring social and community cohesion in our society. People in control of their energy futures – managing energy use (the cheapest energy is energy you don't use). Government recognition and support and involvement in making community work.'
Delegate at the Community Energy Congress, 17th June 2014
'The community co-owns the land, water, food and energy systems that they all need to survive. We care, manage and operate our systems of which renewable energy is of the heart. They are sustainable, eco-friendly and technologically viable. A warm sunshine over our solar farms, small clumps of wind turbines and bioenergy waste plants alongside the large beautiful areas for growing food…. It's a collaborative effort, everyone is inspired and we all are working together to make this happen.'
Delegate at the Community Energy Congress, 17th June 2014
3.3 Summary: Vision of Community Energy Congress Delegates
The following five sub-strategies outline a series of objectives and priority initiatives that represent a series of concrete steps to bring this vision closer to reality: